The Hampshire Jam was a bit different this year, as Steve Jenkins, the organiser, had decided not to do the usual Berlin School sequencer fest. He'd got an interesting line-up, with plenty of variation, but even though nothing stood out for me as much as Arc at HJ3, there was some good stuff from each of the acts.
Narcosis played a short set, which was a bit like the more improvised bit of Stephan Whitlan's HJ2 set, with Steve Jenkins adding backing textures and sequences. Stephan then performed his infamous SF medley.
RMI played a very mixed set, started ambient and weird and then built up into some huge sequences, then did a couple of pieces which didn't really do it for me (too structured and rather formulaic, with cheesy organ chord sequences) and ended with a very experimental piece (which was like an excerpt of the Leeds Awakenings gig) and a guitar, bass and drum workout called 'Syd Barrett'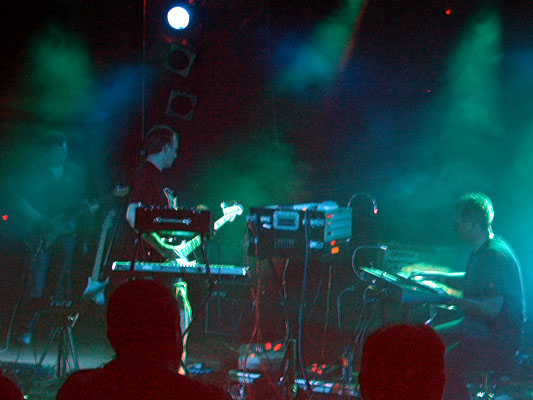 Keller, Schonwalder & Broekhuis had a few problems with gear in the first part of their set, but got back on track for part 2 and their encore. Nice to see a laser harp being played. Also some nice sequence manipulation from Mario. I thought Detlef played some really nice stuff, esp in part 2, but just wished that the sequences had been a bit more upfront.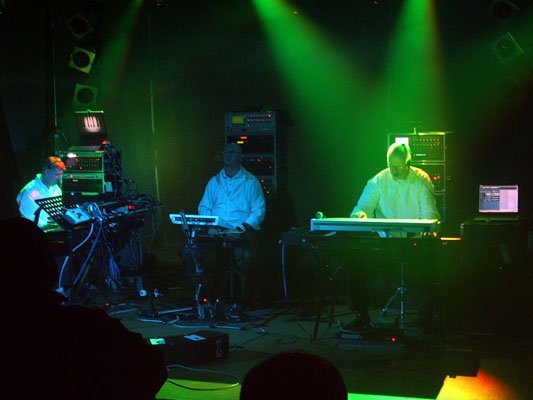 Technical problems throughout the day held everything up so much that der Spyra went on an hour late. His set started out very modern and quite melodic then he was joined by a guest performer, who played the 'bow chime' for a mulimedia experiment in Metallitronics called Steel Lament, with projections of steelworks and such. The second part of the set was much more powerful, with some nice basslines and sequences (from 2 laptops). Wolfram really seemed to get into this part of the set, even standing up to play.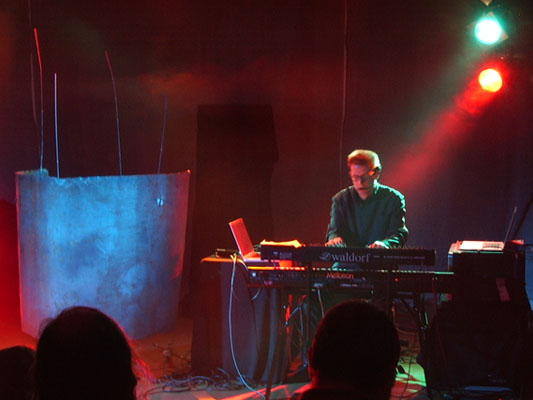 All in all a good day of live EM finished off with a good curry with Adrian and John from Airsculpture.
What more could you want?